Haboro is a small town, located in northern Hokkaido. A town blessed with prodigality of nature, famous for the beautiful sunset of the Sea of Japan, and hot springs.


Welcome to Sunset Plaza Hotel
The hotel is built imaging a floating hotel. A hotel surrounded by pellucid sky and rich nature,
and the expansive entrance welcoming your visit. We promise you with a lofty and soothing stay, at our hotel.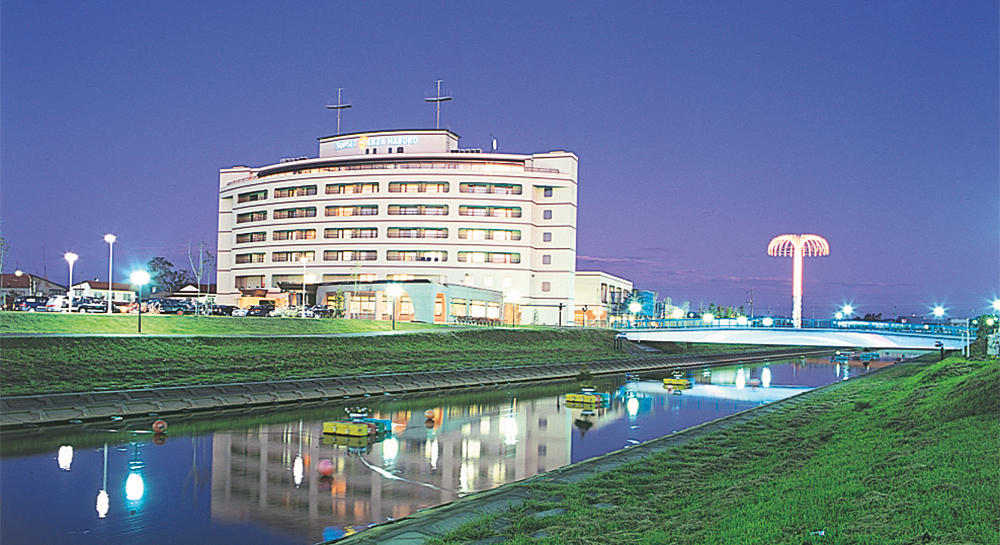 All rooms have ocean-front view of the Yagishiri and Teuri Islands, and the fiery sunset.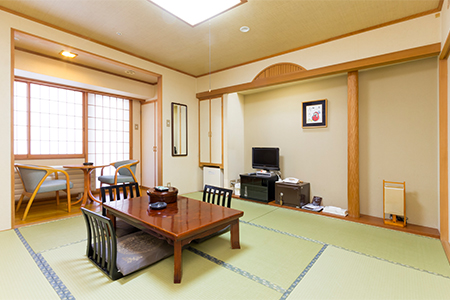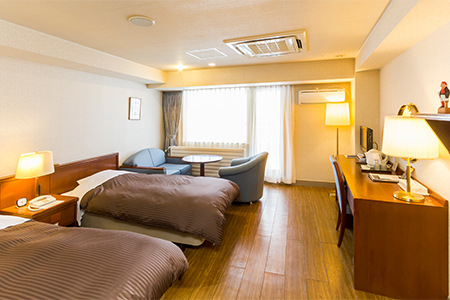 Japanese Style Standard Room (1)…10㎡

A simple room suited for single travelers and businessmen. A fully-equipped room, with comfortable simplicity.

Japanese Style Standard Room (2)…12㎡

A room suited for couples or small family. Experience the Japanese style bedroom with tatami floors, and futon bed.

Japanese Style Standard Room (3)…13㎡

A room suited for families and friends (up to 4 people). Enjoy lying on the tatami floor, chatting with your people, making yourself at home.

Western Style Standard Single Room…13.3㎡

A simple western style bedroom, easing your mind and body from your daily life stress.

Western Style Standard Twin Room (1)…17㎡

A room suited for couples, and single travelers. Enjoy the extra space in the room to relax. You can also enjoy the ocean front view from the room balcony.

Western Style Standard Twin Room (2)…20.7㎡

A room decorated in chic hue. Accommodating up to 3 people (2 beds and 1 sofa-bed as an extra bed). Make yourself at home, with a mind refreshing view from the balcony.

Western Style Deluxe Twin Room…34.3㎡

A decadent and spacious room with great ocean front view from both balcony and bathroom. Serve yourself with a cup of coffee (Coffee set provided), and enjoy a lofty stay with your loved ones.

Our hotel presents you with fresh and delicious local produce in season, for our guests to enjoy their stay.
Examples; Whelk dressed with wasabi sauce Haboro's pink shrimp sashimi Assorted sashimi of the season Scallop
takikomi-gohan (steamed rice) Steamed seafood with soy sauce and butter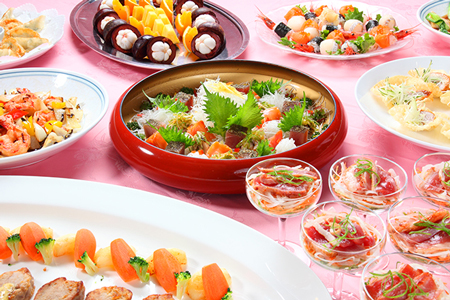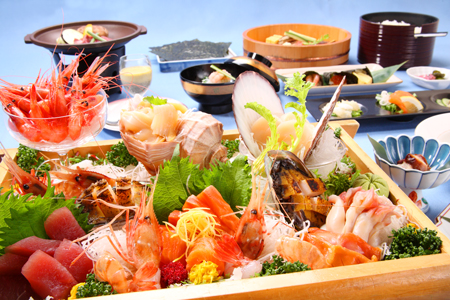 -Restaurant "Nito-Monogatari"-

Creative platters, using fresh local delicacies of the mountains and seas.

Open Hours: 11:30-15:00 / 17:30-21:00

-Observatory Lounge "Aoi-Bara (Blue Roses)"-

You can enjoy the burning sunset, while having a drink or two at our bar.

-Open Hours-
- For day trip users:

10:00-22:00

-Fee for Day Trip Users-

-Adults: 550 JPY

-Children: 280 JPY (Infants are free)
-Indoor Bath Pools-
Large bath pool

- Reclining type bath

- Hot Jacuzzi

- Waterfall type bath

- Sauna bath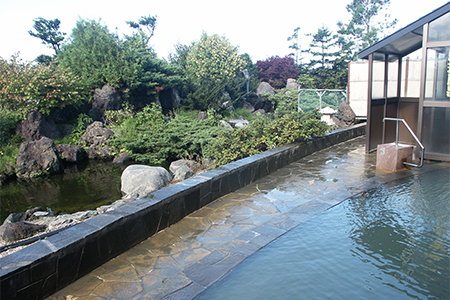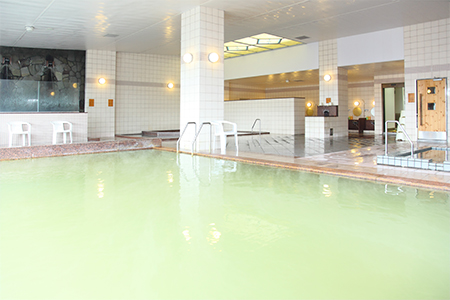 -Outdoor Bath Pool-

A wide outdoor path pool, with a beautiful Japanese garden outspread before you. At night time, you can enjoy the garden illumination in rainbow colors.

-About the Hot Spring-

- Mineral Composition: Sodium/ Chloride strong saline

- Effective for: Rheumatism, Neuralgic pains, Traumatic fracture, Skin burn, hemorrhoids, Gynecopathy, Fatigue recovery, Recuperation after illness, Dermatosis, Stress reduction, Motor function

disorders, Arthralgia, Myalgia, frozen shoulder, Digestive system, Woundings, Contusions, Cold constitution.

- Contraindications: People with the following conditions should not enter the hot spring (or consult with your doctor beforehand): Acute disease especially fever, tuberculosis, malignant tumor,

serious anemia, pregnancy (especially 1st and 3rd trimester).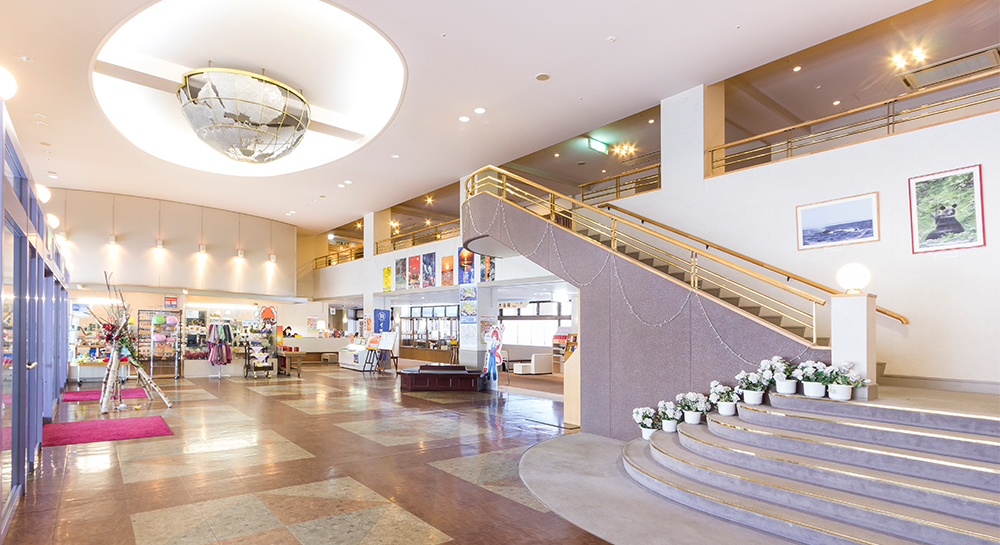 Hotel Concession Store

Open Hours: 7:00-22:00

-Heated Swimming Pool

Open through mid July to mid August

-Banquet & Conference rooms
-Karaoke rooms
-Laundromat
-Mini Game Arcade


…for more information, please contact our hotel.

-By Car-

-1hour (51km) from Rumoi, by National Route 232.

-2hours and 15min (130km) from Wakkanai, by Fukagawa Express Highway Junction.

-2 and a half hours (130km) from Asahikawa, by Fukagawa Express Highway Junction.

-3hours (183km) from Sapporo, by Fukagawa Express Highway Junction.

-From New Chitose Airport (Transfers at major train stations)

-36min from New Chitose Airport to Sapporo, by JR Rapid Airport Train.

↓

-1hour from Sapporo to Fukagawa, by JR Express Super Kamui.

↓

-1hour from Fukagawa to Rumoi, by JR Rumoi Line (Bound for Mashike)

↓

-90min from Rumoi to Haboro (to the terminus) by shuttle bus. (5min walk to the Hotel)

"Haboro Rose Garden" (within the hotel's premises)

From end of June to September, the garden invites you to a luxurious and refined world of more than 300 types of English roses like Fairy Princess, Chesire, Eutin, in full bloom. Within the garden there is the "Love Bell", where many couples prmising their love to each other, and there also is a park nearby, where you can have picnic with your family and friends

"Roadside Station Haboro"

You can buy the different products from the local area of Haboro. Famous for the Minced Shrimp and Octopus Dumplings (using the deep-water shrimp of Haboro).

"Hokkaido Seafowl Center"

This center is the only place in Japan, specialized in the research of sea fouls. Research promotion is mainly based on the protection and propagation of the sea fouls inhabiting around Teuri Islands.

"Teuri Island"

It is the paradise to sea fouls, a place where you can see the coexistence of human and the sea foul. It is known as the Japan's only breeding ground for Common Guillemot, and Ancient Murrelet. Also, it is the world's largest rookery for Rhinoceros Auklet. From the Akaiwa Observatory, you can see the island's symbol Akaiwa (Red-rock), a sharp edged vertical rock rising 46 meters above sea level. From the Kannnonzaki Observatory, you can see the flock of Black-tailed Gulls flying back to their nest.

"Yagishiri Island"

One third of this island is covered with green. The deep forests are home to more than hundred types of wild birds, and the forest floor covered with wild flowers from season to season.

-Forest of Japanese Yew

In this forest, the Japanese Yew trees trail their branches sideways, growing up to 10 meters wide. Enduring the gale and heavy snow through the past 300 years, the trees stretched sideways, only with the height of a meter or so, creating a unique figure unlike other Yew trees in Japan.

-Hibarigaoka Park

It is a vast park where you can enjoy forest bathing, bird watching, lotus flowers blooming at the water's edge.

"Sunset Beach Haboro"

Open through July and August. With your family and friends, you can enjoy camping on the sandy beach, beach volleyball, wind surfing, jet skiing, playing with equipments for marine sports. Inside the beach house, there are information centers, shower booths, flushing toilets, and snack bars.